Pass photo size unit
Select one of the following measurement units: inches (in), centimeters (cm), millimeters (mm) or pixels (px).

The pass photo width and height, and the head height are converted the selected unit.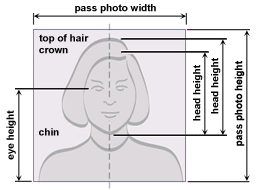 Inches, centimeters or millimeters can be converted into pixels based on a resolution of 600 dpi (dots per inch).
This means 2 inch is converted to 2 x 600 = 1200 pixels.
600 dpi is used to create photo quality images.