UML Reference
The Unified Modeling Language (UML) is a language which can be used to model software systems. It is is not a programming language or a tool. With UML you can specify (what and how), visualize, construct, and document

artifacts

(= deliverables, such as documents, source code etc).

UML was conceived by Rational Software Corporation and three persons Grady Booch, James Rumbaugh, and Ivar Jacobson.

UML is maintained by the Object management Group (OMG) and more information can be found at their website: http://www.uml.org/

This UML reference contains brief summaries of UML elements. All drawings are created with ArgoUML.


Quick reference
Actor.


An actor is who or what initiates the events with respect to the system.
Actors are simply roles that people or objects play and are indicated by stick figures.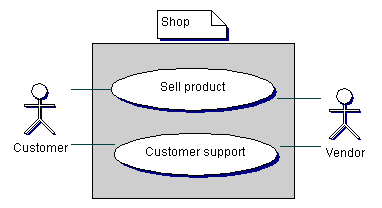 Examples of actors:



People:
Administrator (system)
Agent (call center, sales)
Analyst (security)
Applicant
Approver
Architect (software)
Author
Boss
Buyer
Caller
Clerk (sales order)
Client
Consumer
Contractor
Crook
Customer
Designer (database/user interface)
Developer
Engineer
Doctor
End-user
Gamer
Hacker
Instructor
Manager (operations/project/sales/trading)
Member
Moderator
Modifier
Orderer







Owner
Participant (non)
Patient
Player
Provider
Publisher
Reader
Registrar
Researcher
Reviewer (technical)
Salesperson
Scheduler
Seeker (improvement/information/solution)
Seller
Spammer
Specialist
Staff (sales)
Stakeholder
Student
Subscriber
Supervisor
Supplier
Trader
Trainer
User (login/non-login/site/web)
Validator
Vendor
Objects:
Accounting system
Application
Clearing house
Client
Computer
Database
Development office
Financial Institution
Helpdesk
Message Queue
Repository
Sensors
Server
Service (delivery, invoicing)
Shipping
Store
System (billing, credit card, reservation)
Timer