Bank identificatie nummer checker
Selecteer taal:


De eerste zes cijfers van een credit card nummer staat ook bekend als de bank identificatie nummer (bin). Het getal tussen de bank identificatie nummer en het controle cijfer is de rekening nummer van de klant. Het laatste cijfer is het controle cijfer en wordt toegevoegd om de authenticiteit van het credit card nummer (op basis van de Luhn algoritme) te valideren.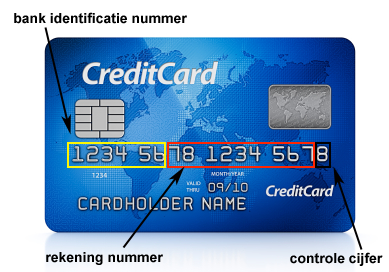 De bank identificatien nummer is een uniek nummer dat gebruikt kan worden om te zoeken in een bin database om credit card informatie te controleren en dus online credit card fraude te voorkomen.
Deze service gebruikt een bin database die de volgende informatie levert:
de naam van het bedrijf die de credit card heeft uitgegeven
het land waar de credit card werd afgegeven
de credit card merk (MasterCard, Visa, American Express)
wat voor soort credit card is het (debet, credit)
de credit card niveau (platinum, premium, corporate enz.)
en de bank telefoonnummer
De verstrekte informatie kan niet gegarandeerd worden juist te zijn, omdat het mogelijk niet actueel is, en hoewel de informatie ter goeder trouw is opgesteld, Mobilefish.com is niet in staat de geldigheid ervan te controleren.

U GEBRUIKT DEZE SERVICE OP EIGEN RISICO. MOBILEFISH.COM ZAL NIET AANSPRAKELIJK ZIJN VOOR ENIG DATA VERLIES, SCHADE, WINSTDERVING OF ENIGE ANDERE VORM VAN VERLIES, BIJ HET GEBRUIK OF MISBRUIK VAN DEZE SERVICE.




Input bank identificatie nummer checker:
Output bank identificatie nummer checker: