Telefoonnummer naar woorden
Selecteer taal:


Deze service converteert een telefoonnummer naar eenvoudig te onthouden woorden.

Veel telefoon toetsenborden hebben letters bij de getallen, waaruit woorden, namen, acroniemen, afkortingen of alfanumerieke combinaties kunnen worden gevormd. Deze woorden staan bekend als telefoon woorden. Telefoon woorden zijn makkelijker te onthouden dan een opeenvolging van betekenisloze getallen.

Bijvoorbeeld:
06-13327735 wordt 061-de-appel

Bedrijven maken gebruik van telefoon woorden in advertenties op televisie, billboard of radio.

Er zijn verschillende telefoon toetsenborden, elk met een verschillend getal-letters indeling. Maar de meeste telefoons die tegenwoordig worden gebouwd plaatsen de letters op de telefoon toetsenbord volgens de ITU E.161 standaard: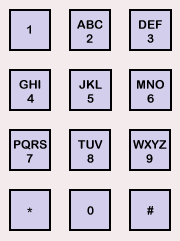 Deze service zet niet alleen een telefoonnummer om naar woorden, maar zet woorden om naar een telefoonnummer en zet een telefoonnummer om naar alle letter combinaties. Vanwege de grote hoeveelheid gegevens, zijn de letter combinaties beperkt tot maximaal 60000.



Hoe deze service werkt:




Selecteer een uit te voeren actie:

Converteer telefoonnummer naar woorden
Converteer woorden naar telefoonnummer
Converteer telefoonnummer naar alle lettercombinaties

Tik een telefoonnummer in.
De telefoonnummer kan 3 tot 10 letters en cijfers bevatten gescheiden door spaties, streepjes "-" of
ronde haakjes "( )".
Als "Converteer telefoonnummer naar woorden" is geselecteerd, kies een Engels of Nederlands woordlijst om de telefoon woorden te verifiëren.
Als "Converteer telefoonnummer naar alle lettercombinaties" is geselecteerd, dan kan je een aantal filter opties toe passen.
Druk op de knop Converteer. De actie kan enige tijd duren. Even geduld aub.
Input telefoonnummer naar woorden:
Output telefoonnummer naar woorden: