Online credit card nummer checker
Selecteer taal:


Deze tool controleert of de ingevoerde credit card nummers voldoen aan de Luhn formule (MOD 10 check).

Meerdere credit card nummers kunnen in een keer worden gecontroleerd. In het invoerveld, vul elke credit card nummer op een aparte regel. De credit card nummers mogen alleen bestaan uit cijfers, spaties, punten (.) of koppeltekens (-).

Bijvoorbeeld

1234567812345678
1234 5678 1234 5678
1234-5678-1234-5678
1234.5678.1234.5678
Een credit card nummer bestaat uit 3 delen: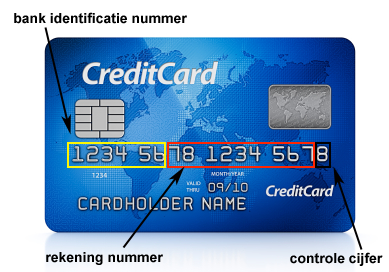 De bank identificatie nummer
De eerste zes getallen is de bank identificatie nummer (BIN) of issuer identification number (IIN) om de uitgever van de kaart te identificeren.
De rekening nummer
Het getal tussen de bank identificatie nummer en het controle cijfer is 6 tot 9 cijfers lang en wordt gebruikt om de individuele rekening nummer te identificeren.
Het controle cijfer
Het laatste cijfer is het controle cijfer en wordt toegevoegd om de authenticiteit van het credit card nummer (gebaseerd op de Luhn algoritme) te valideren.
Als de credit card nummer is geslaagd voor de Luhn test, dan wordt de bank identificatie nummer gebruikt om te zoeken in een bin database om credit card informatie op te halen:
de naam van het bedrijf die de credit card heeft uitgegeven
het land waar de credit card werd afgegeven
de credit card merk (MasterCard, Visa, American Express)
wat voor soort credit card is het (debet, credit)
de credit card niveau (platinum, premium, corporate enz.)
en de bank telefoonnummer
De verstrekte credit card informatie kan niet gegarandeerd worden juist te zijn, omdat het mogelijk niet actueel is, en hoewel de informatie ter goeder trouw is opgesteld, Mobilefish.com is niet in staat de geldigheid ervan te controleren.

Alle informatie die in de input velden zijn ingevoerd, gemarkeerd met een sleutel ikoon

, wordt beveiligd verstuurd naar Mobilefish.com.

U GEBRUIKT DEZE SERVICE OP EIGEN RISICO. MOBILEFISH.COM ZAL NIET AANSPRAKELIJK ZIJN VOOR ENIG DATA VERLIES, SCHADE, WINSTDERVING OF ENIGE ANDERE VORM VAN VERLIES, BIJ HET GEBRUIK OF MISBRUIK VAN DEZE SERVICE.



Gebruik de nep credit card nummers niet in een productie systeem.
Als u dit doet dan kunt u in de gevangenis belanden of een boete krijgen.
Web winkels monitoren afgeketste credit cards en uw IP adres en afleveradres worden gebruikt om u op te sporen.







Input credit card number checker:
Output credit card number checker: